Regular price

Sale price

£15.99 GBP

Unit price

per

Regular price

Sale price

£15.99 GBP

Unit price

per

Regular price

From

£5.00 GBP

Regular price

Sale price

From

£5.00 GBP

Unit price

per
LOOKING FOR THE BEST KETO COOKIES IN THE UK?
Are you ready to experience the Ultimate Keto Cookie Treat that satisfies your sweet tooth at snack time, while keeping you on track with your low-carb, high-fat keto diet? 
Look no further than the Keto Collective's mouthwatering Keto Cookies collection.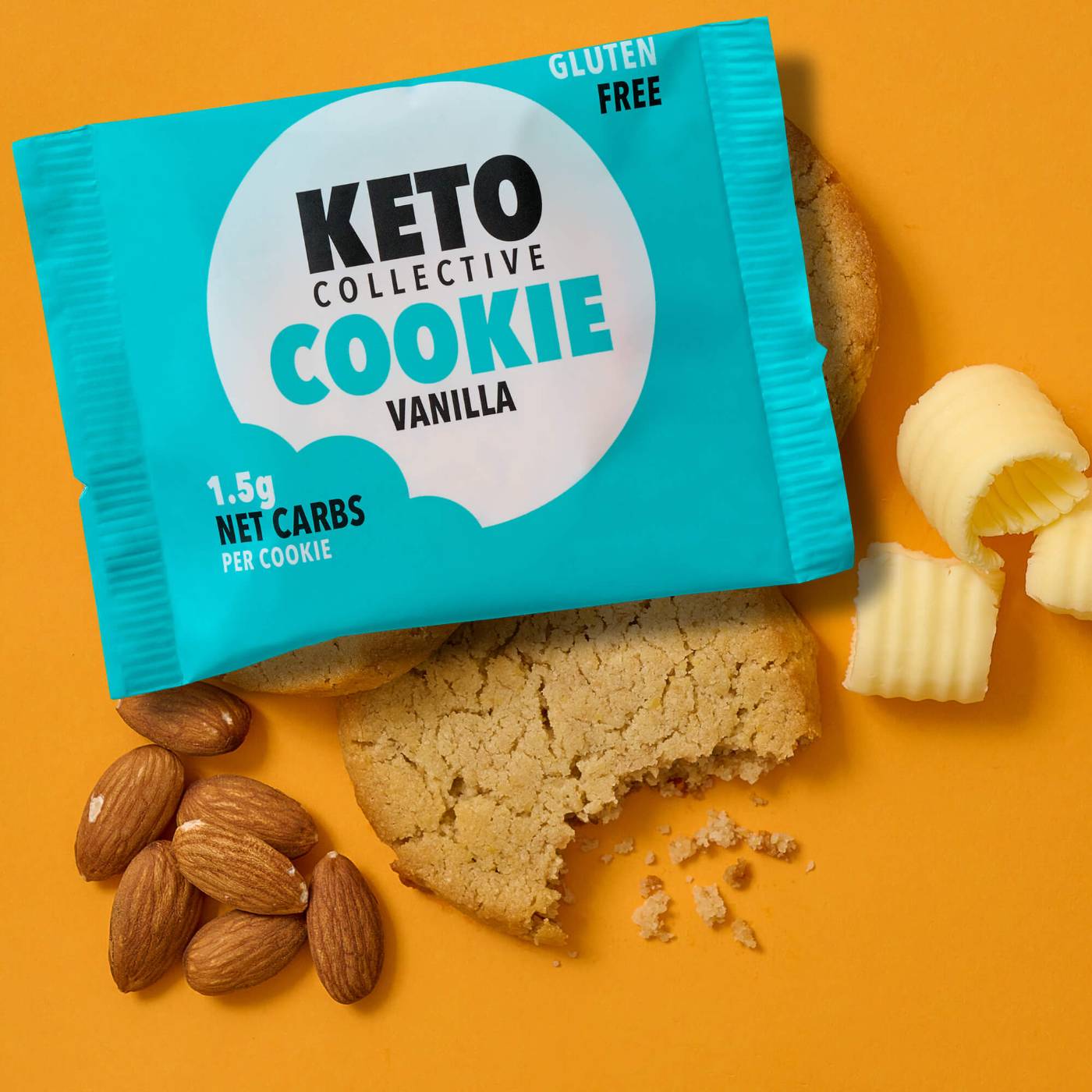 VANILLA KETO COOKIES
Our Vanilla Keto Cookies are made with almonds, chicory root, and golden flaxseed to create a rich and satisfying cookie base.
We then add a touch of sweetness with our vanilla flavouring, which is made from all-natural ingredients.
LOW NET CARBS PER COOKIE

Our range of keto cookies are low in net carbs, moderate in protein and high in healthy fats, this ensures our snacks offer the perfect KETO MACRO ratio.

REAL FOOD KETO INGREDIENTS

Our Keto Cookies are proudly made with REAL FOOD INGREDIENTS, not an artificial sweetener in sight (no artificial flavours either for that matter).

NUTRITIONIST APPROVED

Founded by Low Carb Keto Nutritionist Suzie Walker, each of our recipes have been carefully curated to be enjoyed as part of a low carb/keto lifestyle.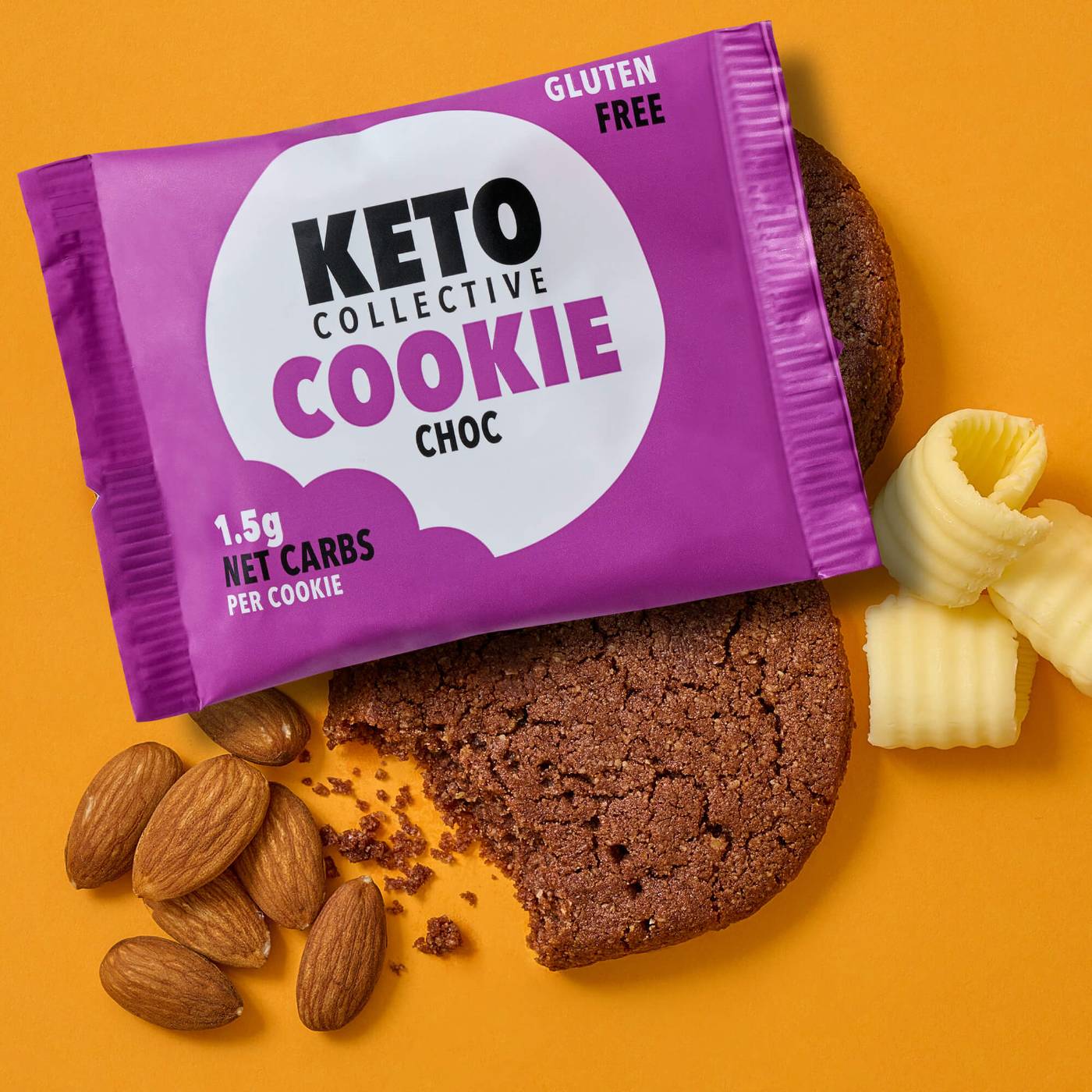 CHOC KETO COOKIES
For those who prefer a chocolatey flavour, our Choc Keto Cookies are the perfect treat.
We use the same high-quality almond and chicory root base as our Vanilla Keto Cookies, but we add a rich cocoa powder to create a decadent and satisfying taste.
Collapsible content
Vanilla Keto Cookie: A Delightful Blend of Flavors and Nutrition

Indulge your taste buds in the symphony of flavours that our Vanilla Keto Cookie offers. Crafted with precision and care, this cookie is a true embodiment of what the best low-carb cookies should be.

With a mere 1.5 g net carbs, it's the perfect solution for your sweet cravings without guilt. Packed with almond goodness and real butter, this cookie boasts a healthy fat content that's essential for a successful ketogenic diet.

The chicory root fibre in our Vanilla Keto Cookie not only adds a delightful touch of sweetness but also aids digestion and supports gut health. Our natural vanilla extract gives this cookie its delightful flavour, perfectly complementing the nuttiness of almonds.

Each bite is a journey of taste sensations that satisfies your sweet tooth while adhering to your keto diet goals.

Whether you're enjoying it after a meal or as a midday snack, our Vanilla Keto Cookie offers the ultimate guilt-free dessert experience in the perfect serving size. Its carefully selected natural ingredients make it the perfect choice for satisfying your cravings without compromising on your keto journey.
Choc Keto Cookie: A Decadent Chocolate Experience with Every Bite

For chocolate lovers with a sweet tooth seeking the taste of a chocolate chip cookie while staying keto compliant, our Choc Keto Cookie is the answer to your prayers.

With the perfect balance of flavours and nutritional benefits, this cookie is an invitation to experience a chocolate cookie like no other - without the added sugars and high carbs associated with milk or dark chocolate.

Boasting only 1.5 g net carbs, this cookie lets you indulge in the rich flavours of chocolate without causing a spike in your carb intake. Real butter and almonds combine to provide the healthy fats your body craves on a keto diet. The inclusion of chicory root fibre ensures that this cookie isn't just delicious but also supports digestive health with natural ingredients.

Cocoa and Almonds come together in this cookie to create a chocolate experience that satisfies your cravings while adhering to your keto lifestyle. You won't believe you're enjoying a treat that's actually good for you!

Imagine sinking your teeth into a soft, chewy chocolate chip cookie that doesn't compromise on taste or your keto diet requirements. Our Choc Keto Cookie makes it possible to enjoy the best of both worlds - a decadent treat and keto-friendly goodness.

With rave customer reviews since release, our Low-Carb Keto Cookies are certainly keeping our Keto Diet following friends' sweet tooth at bay!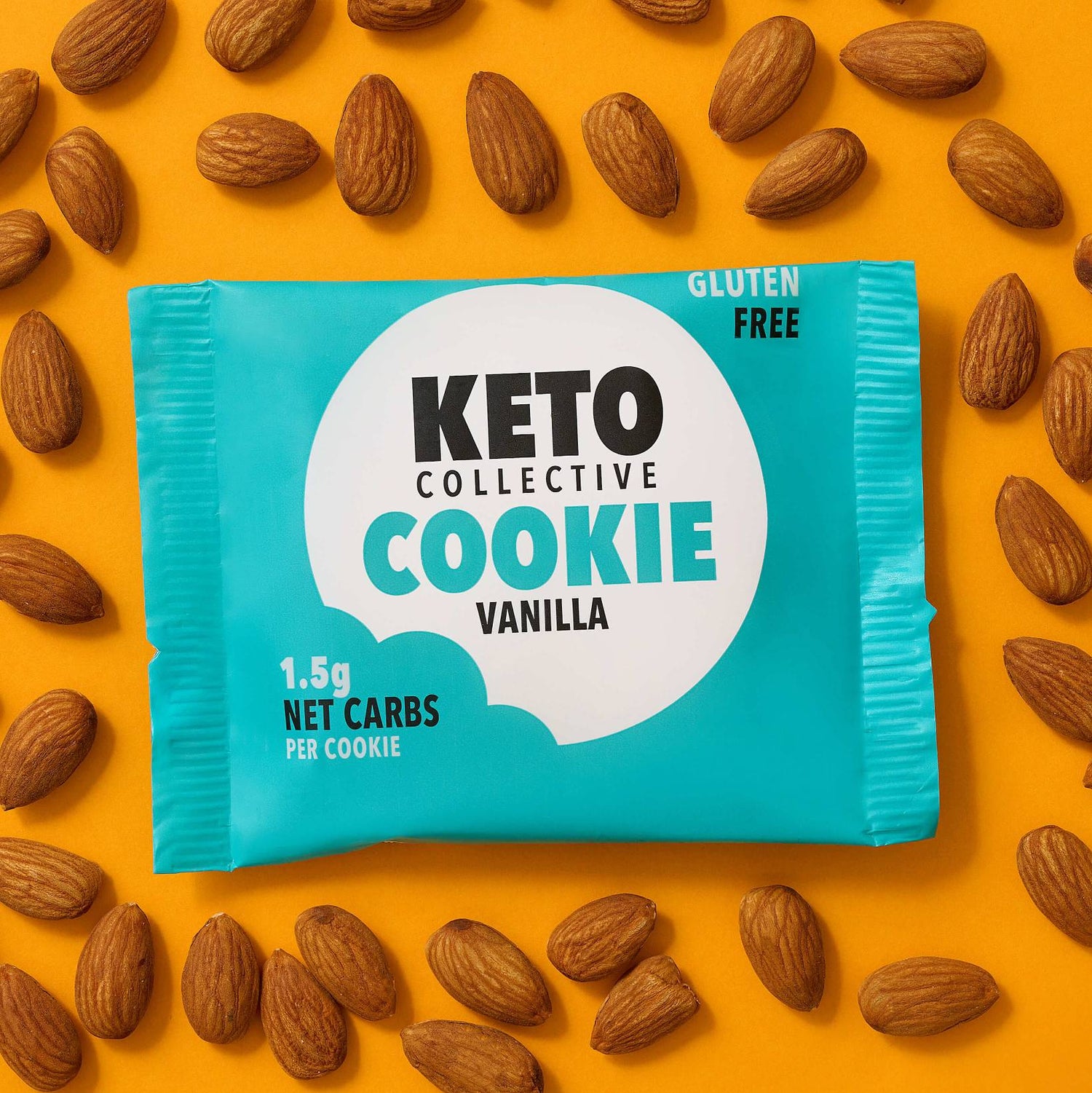 SHOP KETO COOKIES
Our new range of Keto Cookies is made with REAL WHOLEFOODS, so you can rest assured that you're getting only the best quality keto ingredients. Soft, tasty and with only 1.5g NET CARBS per cookie.
Our Keto Products are Gluten Free and contain No Artificial Sweeteners. Our Keto Products are made in the UK and are nutritionist-approved.
The Keto Collective snacks are a great choice for anyone looking to satisfy their sweet tooth while following the keto and low-carb lifestyle.
FREE Delivery on all UK orders over £30!
Regular price

Sale price

£15.99 GBP

Unit price

per

Regular price

Sale price

£15.99 GBP

Unit price

per

Regular price

From

£5.00 GBP

Regular price

Sale price

From

£5.00 GBP

Unit price

per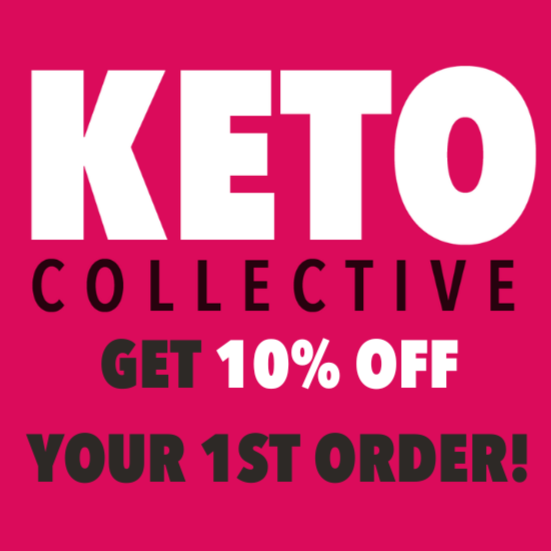 GET 10% OFF YOUR FIRST ORDER
Sign up to our Newsletter today to get 10% off your first order of Keto Cookies and Snacks.
Keep up to date with all things Keto and Low-Carb, and keep your Keto Journey on-course with help from The Keto Collective!
GET YOUR KETO DISCOUNT HERE
Collapsible content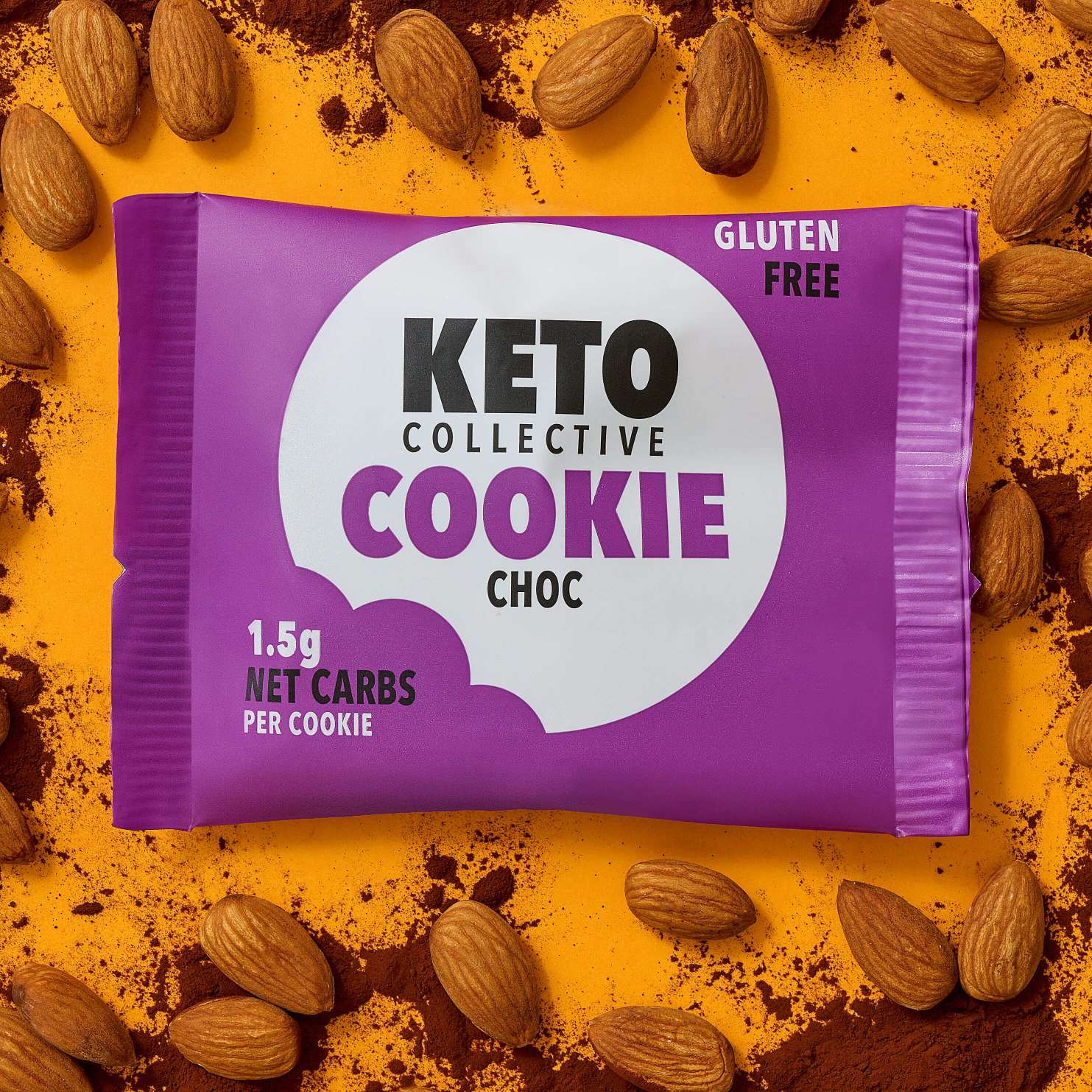 Are These Cookies Keto Friendly?

Yes, absolutely!

With just 1.5 g net carbs per cookie, our Keto Cookies are the perfect choice for those following the ketogenic diet. Whether you're aiming for weight loss, blood sugar level management, or simply adopting a healthier lifestyle, our cookies align perfectly with your goals. Now you can replace your favourite regular cookies with the best low carb cookies in the UK. Say goodbye to worries about consuming too much sugar or carbs - our cookies are expertly designed to keep you on track without compromising on taste. Keep blood sugar levels optimised and satisfy your sweet cravings without sacrificing your commitment to the keto lifestyle. Our Keto Cookies are the perfect treat for those moments when your sweet tooth calls. With flavours that remind you of traditional cookies but without the high net carbs, added sugar, or artificial ingredients, you'll enjoy the best of both worlds. Indulge in the irresistible delight of chocolate chip keto cookies and savour the essence of real butter and dark chocolate, all while keeping your carb intake in check.
Are Keto Cookies Healthy?

Yes, keto cookies can be a healthy snack option when consumed in moderation as part of a balanced diet.

Unlike traditional cookies that are loaded with refined sugar and unhealthy fats, our keto cookies are made with nutrient-dense ingredients.

These ingredients provide healthy fats, fibre, and protein, which can help keep you feeling full and satisfied.

Our Keto Cookies are more than just delicious treats; they're backed by the expertise of nutritionists who understand the importance of maintaining low-carb, high-fat dietary patterns. With a focus on using clean ingredients, such as natural vanilla extract and cocoa, we've created cookies that align with your keto journey while meeting your nutritional needs. Our cookies are also high in gut-friendly fibre, aiding digestion and promoting a healthier you. We understand that finding delicious and keto-friendly snacks can be challenging, which is why we've created a range of products that cater to your dietary preferences and restrictions. Our Keto Cookies, with their low net carbs and clean ingredients, epitomize the perfect keto-snacking experience.
What Flavours Are Available?

Vanilla and Choc - these two exquisite flavours are the stars of our Keto Cookies collection. Crafted with high-quality almonds, chicory root fibre, salted butter, golden flaxseed, and natural flavourings, each cookie is a symphony of natural ingredients that not only satisfy your taste buds but also provide healthy fats and dietary fibre. Plus, with the inclusion of coconut oil and almonds, our cookies are rich in those wholesome fats that make the keto diet so effective. Whether you're a vanilla enthusiast or a devoted chocolate lover, the Keto Collective's Keto sugar-free cookies collection has something for you. Our Vanilla and Choc Keto Cookies redefine what keto snacking can be, providing you with options that are high in quality almonds, low in net carbs, and rich in taste. These are also gluten-free cookies, for all the coeliacs out there. Embrace the keto cookie revolution and experience the delight of guilt-free indulgence.
How Are Keto Cookies Different From Regular Cookies?

Keto Collective cookies are different from regular cookies in several ways!

Our cookies are made with low-carb ingredients, whereas regular cookies are typically made with refined flour sugar and seed oils/margarines.

Keto Collective cookies contain healthy fats - real butter.

We also don't use any sugar alcohols/polyols such as malitol or erythritol or any artificial sweeteners.

Our keto cookies are also higher in fibre, making them a healthier alternative to regular cookies for those looking to improve their diet.
What Are Keto Cookies Made Of?

Keto Collective cookies are made from a combination of almonds, chicory root, salted butter, and golden flaxseed.

Almonds are a great source of healthy fats, protein, and fiber. They are also low in carbohydrates, making them a perfect ingredient for keto.

Chicory root is low in calories and carbohydrates, and it has a slightly sweet taste that makes it a great alternative to sugar. Chicory root is also a good source of fibre that can help to improve digestion and regulate blood sugar levels.

Salted butter is a classic ingredient in many baking recipes, and it adds rich flavour to our keto cookies.

Golden flaxseed is also a good source of fiber and healthy fats, and it has a nutty flavor that adds depth to our keto cookies.

These ingredients are perfect for anyone following a ketogenic diet or looking for a healthier snack option.
Are Keto Cookies Gluten Free?

Yes! Our Keto Cookies can be enjoyed by those suffering from issues related to consuming Gluten.
Can Keto Cookies Help Me Lose Weight?

Yes, by substituting typical snacks for our healthier keto options, you may be able to lose weight whilst eating our Keto Cookies.

Our Keto Cookies contain less carbohydrates than regular cookies which you may pick up in your local supermarket.

They are also packed with healthy ingredients and fibre, leaving you feeling fuller for longer!
Why Choose the Keto Collective?

When you choose Keto Cookies from the Keto Collective, you're not just treating yourself to a tasty snack - you're embracing a lifestyle that supports your well-being. Our low-carb keto biscuits are the perfect companions for your journey, helping you maintain steady energy levels, support weight loss, and enjoy the many benefits of the ketogenic diet. Plus, with the convenience of online shopping, you can have our cookies delivered right to your doorstep, anywhere in the UK, and enjoy free shipping on orders over £30.

It's time to eat different snacks and redefine your snacking habits with the Keto Collective's Keto Cookies. These delectable treats offer more than just exceptional taste; they're a commitment to your health, your taste buds, and your keto lifestyle. Make the switch to keto-friendly cookies that deliver on taste, nutrition, and satisfaction. Treat yourself to the perfect keto cookie - because you deserve the best.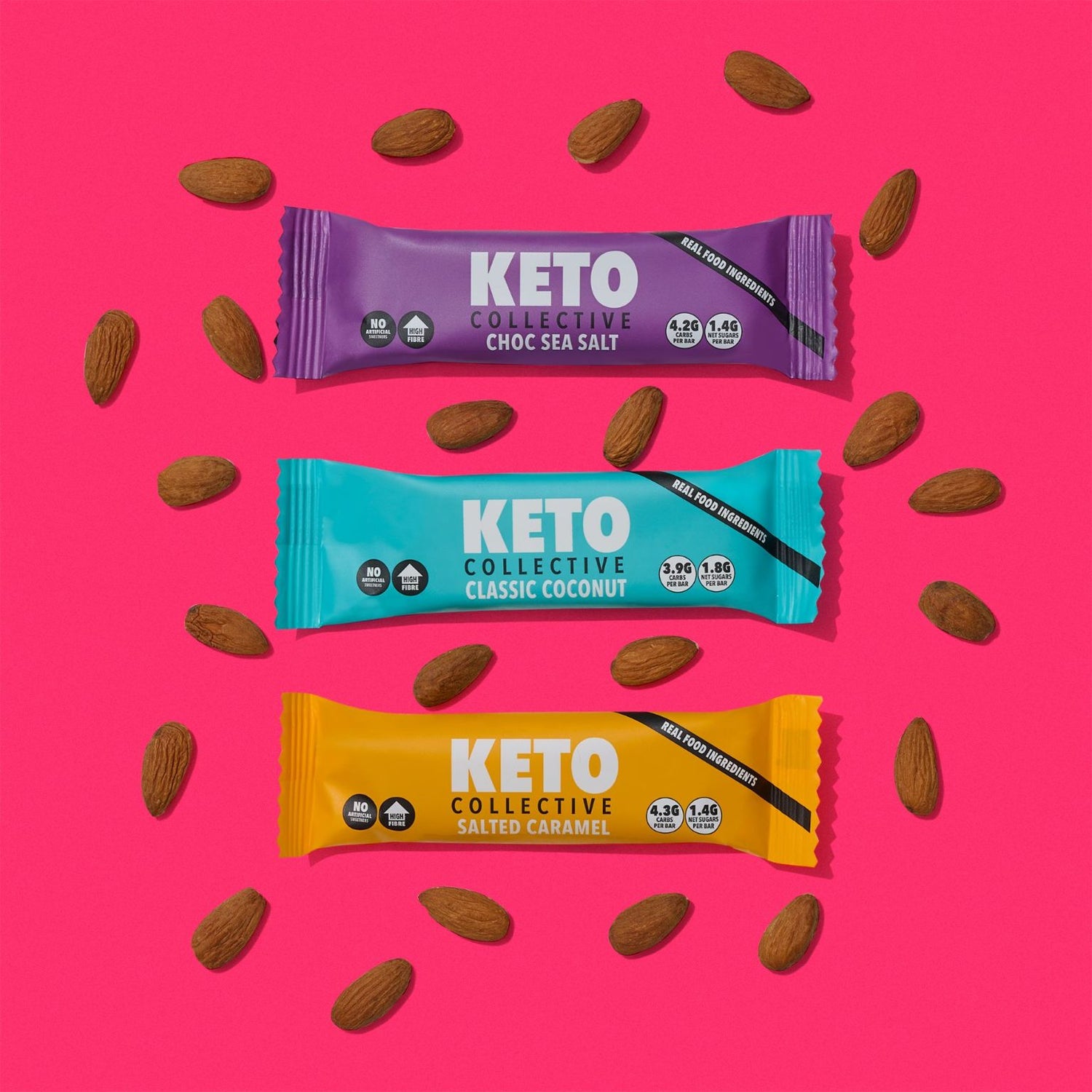 TRIED OUR KETO BARS?
Containing only 3g NET CARBS per bar! 
All our Keto Bars are vegan-friendly, gluten-free and made with 100% Natural ingredients.
SHOP KETO BARS