Regular price
Sale price
£15.99 GBP
Unit price
per
Sale
Sold out
In stock.
LIMITED STOCK AVAILABLE
Vanilla Keto Cookies are a delicious and guilt-free dessert option that is perfect for anyone who wants to indulge in a sweet treat without derailing their healthy eating goals.
These cookies are made with real butter, almonds, chicory root, and only a handful of other ingredients. They are also gluten-free, high in fibre, and free from artificial sweeteners.
With only 1.5g net carbs per cookie, Vanilla Keto Cookies are an excellent choice for those on the keto diet or anyone looking to reduce their sugar intake.
Despite being low in carbs and sugar, they still manage to deliver on taste and texture with their soft and chewy consistency.
Additionally, the Vanilla Keto Cookies are gluten-free and high in gut-friendly fiber, ensuring that they are not only tasty but also healthy.
Moreover, these cookies have been approved by nutritionists for those reducing sugar intake.
The absence of artificial sweeteners is an important feature of all of our keto snacks, as it ensures that consumers can enjoy the Vanilla Keto Cookies without worrying about consuming harmful chemicals or additives often found in traditional snack foods.
Keto Friendly
1.5g Net Carbs Per Vanilla Keto Cookie!
Packed Full of Healthy Ingredients
No Artificial Sweeteners or Ingredients
Gut Friendly Fibre
Gluten Free
Nutritionist Approved
INGREDIENTS

Ingredients: Almonds, Chicory Root, Salted Butter (Milk, Salt), Golden Flaxseed, Vanilla Flavouring, Preservative: (Potassium Sorbate)

ALLERGENS

Contains Almonds
Contains Milk
NUTRITIONAL INFO (PER UNIT)

Nutrition Per 30g Cookie
Energy 151kCal
Fat 12.9g
of which Saturates 3.8g
Carbohydrates 1.7g
of which Net Impact Carbs 1.5g
of which sugars 1.3g
Fibre 7.5g
Protein 3.1g
Salt 0.13g
NUTRITIONAL INFO (PER 100g)

Nutrition Per 100g
Energy 502kCal
Fat 43.1g
of which Saturates 12.5g
Carbohydrates 5.7g
of which Net Impact Carbs 5g
of which sugars 4.5g
Fibre 24.8g
Protein 10.4g
Salt 0.44g
Share
View full details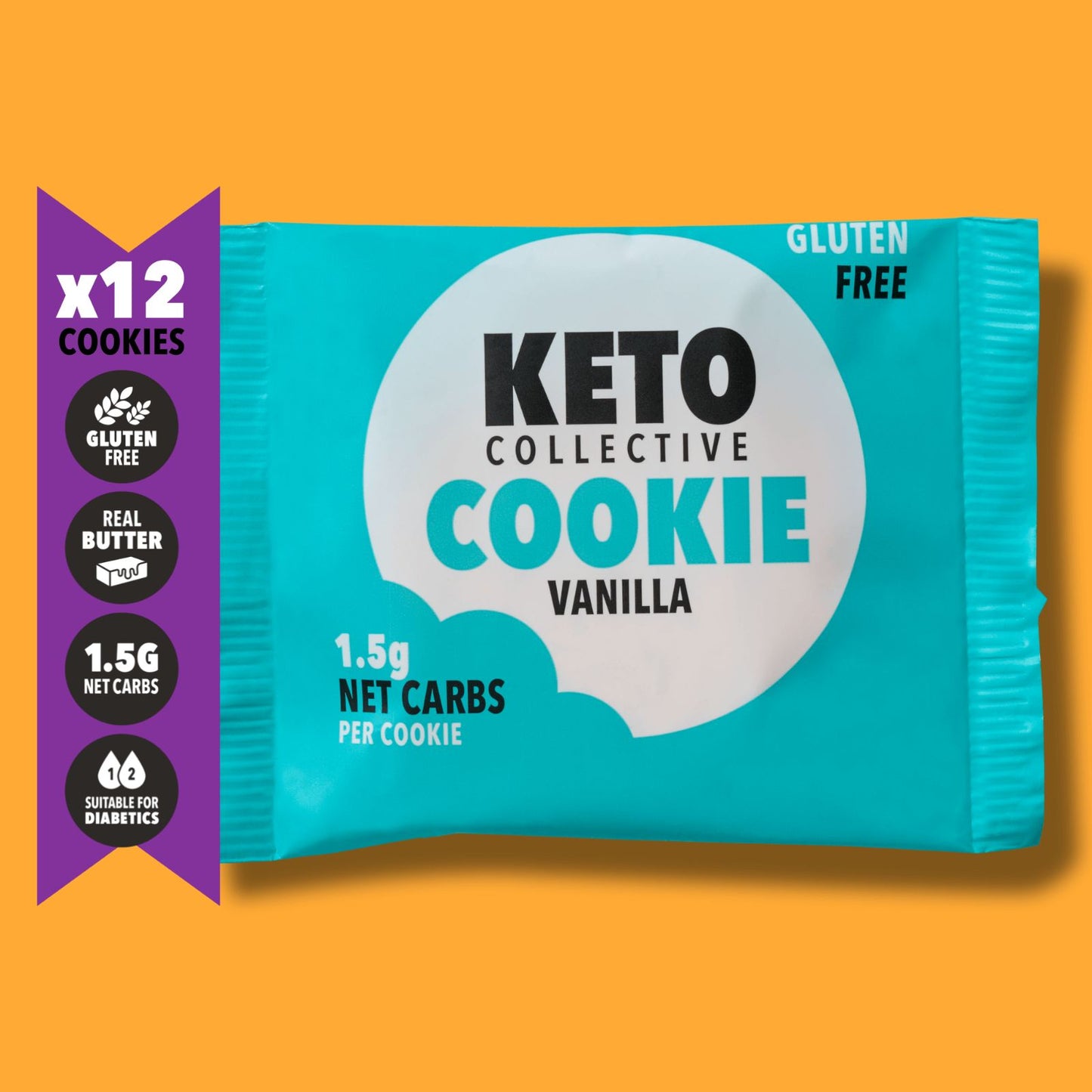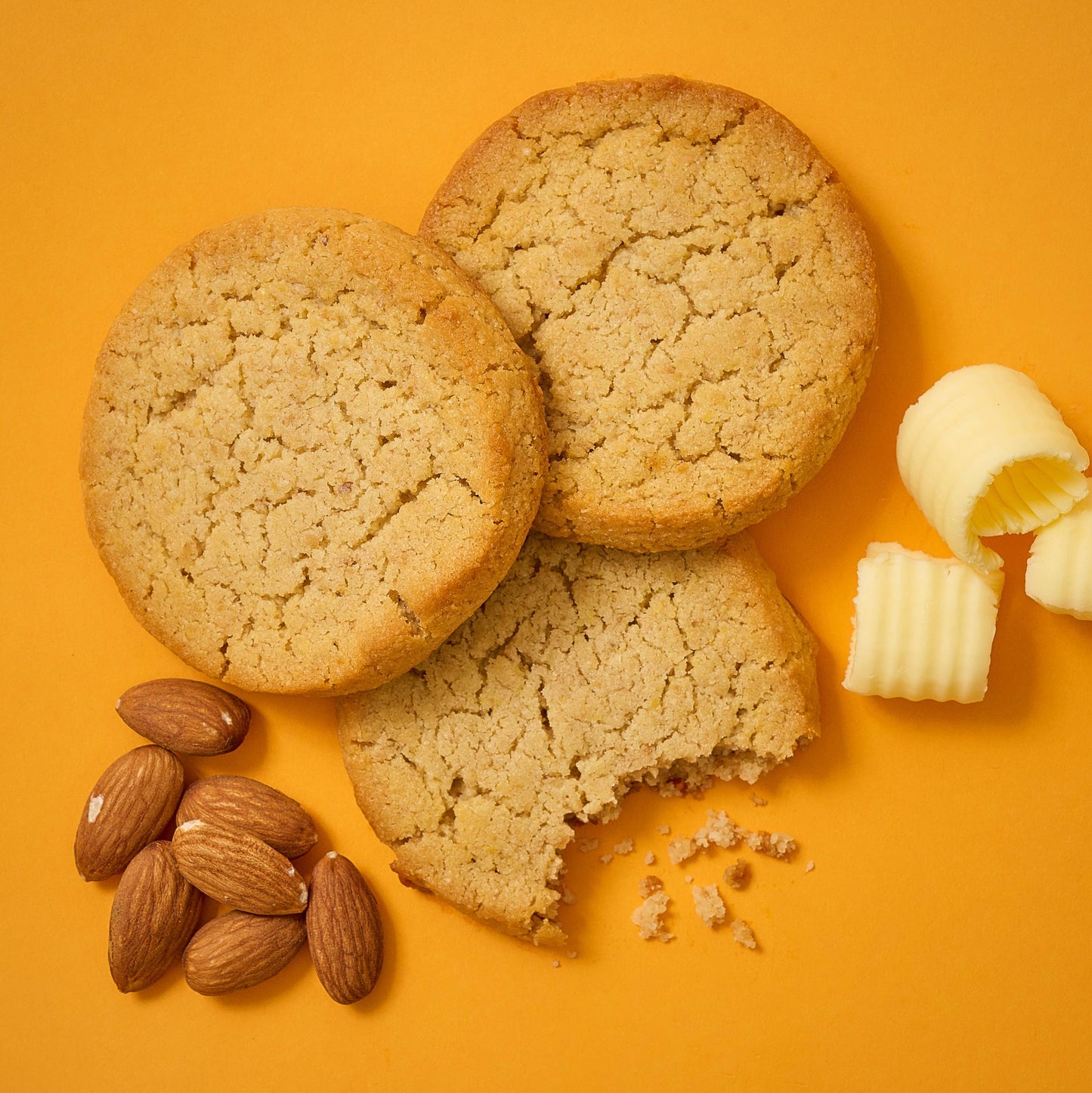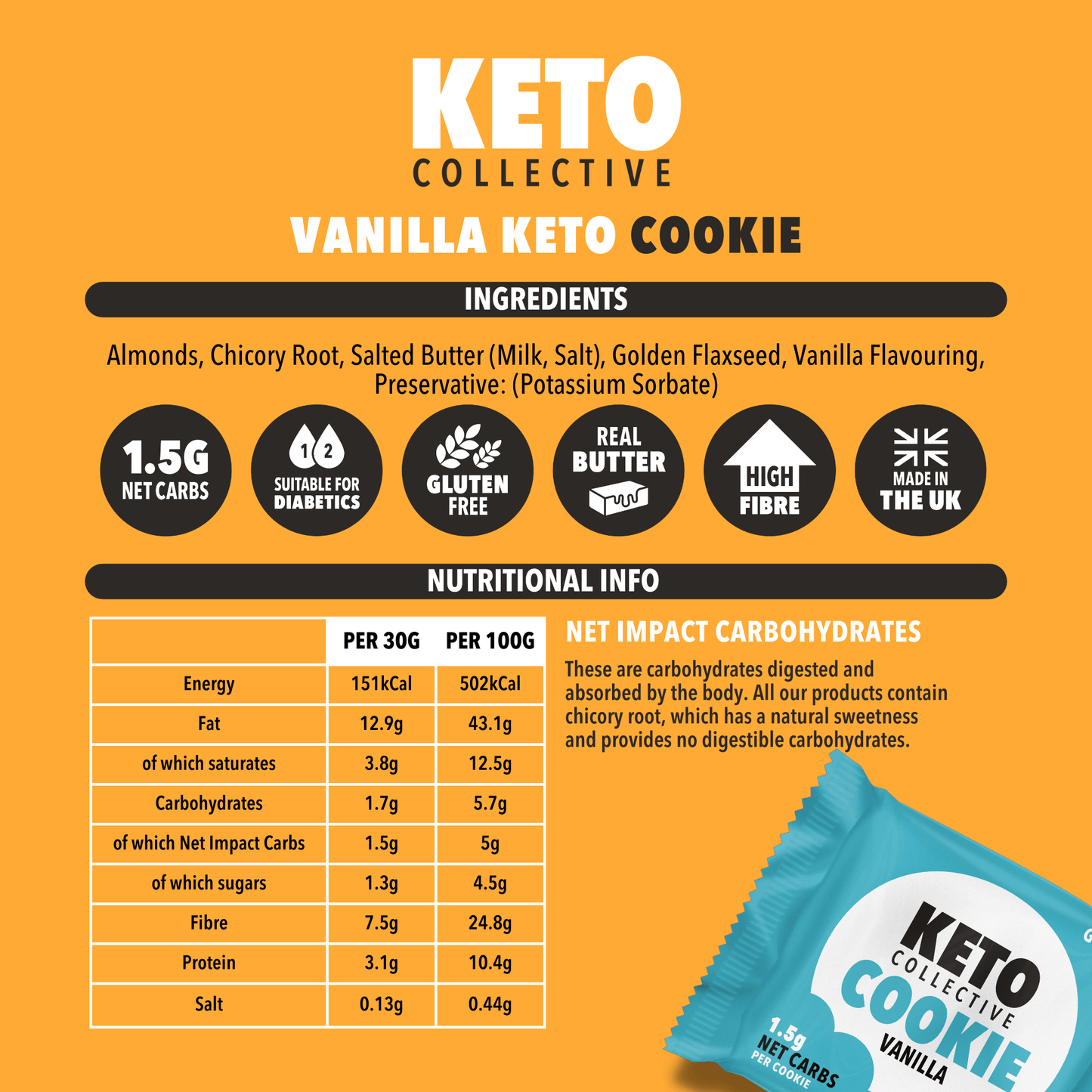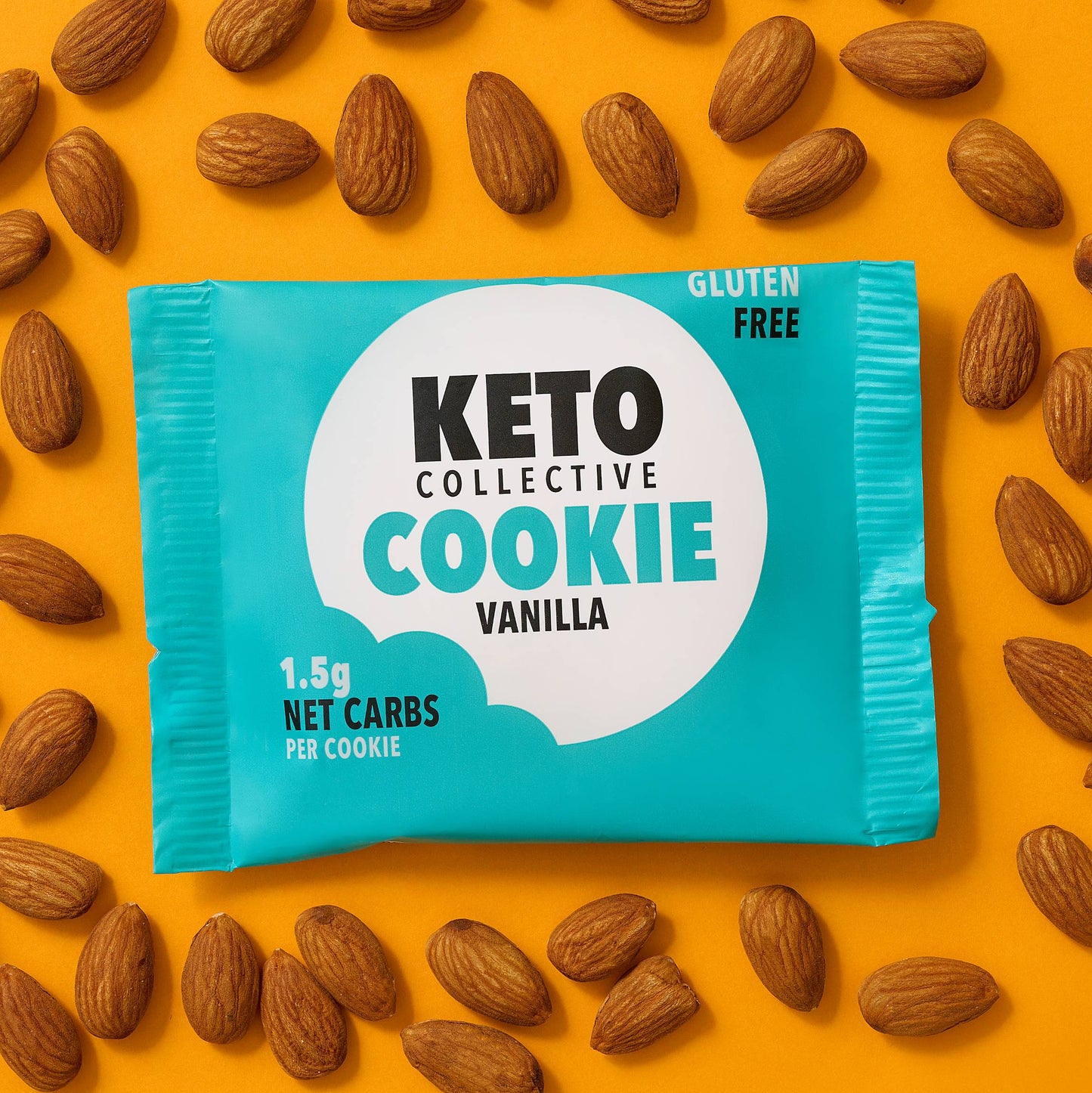 NET IMPACT CARBS
These are carbohydrates digested and absorbed by the body.
All our products contain chicory root fibre, which has a natural sweetness and provides no digestible carbohydrates.
Chicory root fibre is mostly fibre, with a small amount of short chain carbohydrates.  
These carbohydrates have been deducted to calculate the net impact carbs.